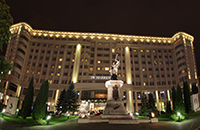 Calea 13 Septembrie, nr. 90
Bucharest 050726
Romania
T: + 40 21 403 0000
E: mhrs [dot] buhro [dot] dosm [at] marriotthotels [dot] com
The JW Marriott Bucharest Grand Hotel is offering RIPE 71 attendees a discounted room rate of 473 RON (approximately 107 EUR) a night including breakfast, WiFi, VAT and city tax.
The discounted rate expires on 12 October 2015.
To book a room at the hotel, please visit the hotel's website or contact the hotel by email.
---
Alternative Accommodation
You can choose from a number of hotels within walking distance. The RIPE NCC neither recommends nor guarantees the quality of the hotels listed. Alternative hotel options can be found via travel sites like booking.com, hotels.com, or through travel agents.
Ave Hotel Unirii Parlament
Str. Sirenelor, nr. 50, Sector 5, 050856 Bucharest
+40 733 151 333
Rates start from EUR 33 including WiFi, breakfast from EUR 5
Distance: 4 min walking
Hotel Parliament
Str. Izvor, nr. 106, Sector 5, 050564 Bucharest
+40 21 411 9990
Rates start from EUR 73 including breakfast and WiFi
Distance: 6 min walking
Ibis București Palatul Parlamentului
Str. Izvor, nr. 82-84, Sector 5, 050561 Bucharest
+40 21 401 1000
Rates start from EUR 45 including WiFi, breakfast from EUR 9
Distance: 7 min walking
Hotel Venezia
Str. Pompiliu Eliade, nr. 2, Sector 1, Bucharest
Rates start from EUR 63 including breakfast and WiFi
Distance: 20 min walking
Volo Hotel
Str. Schitu Măgureanu, nr. 6, Sector 5, 050026 Bucharest
+40 21 313 3323
Rates start from EUR 54 including breakfast and WiFi
Distance: 22 min walking
Epoque Hotel
Str. Intrarea Aurora, nr. 17C, Sector 1, 010213 Bucharest
+40 21 312 3232
Rates start from EUR 174 including WiFi and breakfast
Distance: 22 min walking
Trainon Hotel
Str. Grigore Cobălcescu, nr. 9, Sector 1, 010191, Bucharest
Ratest start from EUR 60 including breakfast and WiFi
Distance: 24 min walking
Carol Parc Hotel
Str. Aleea Suter, nr. 23-25, Sector 4, 020285 Bucharest
+40 20 336 3377
Rates from EUR 100 including breakfast and WiFi
Distance: 25 min walking
Central Hotel
Str. Brezoianu, nr. 13, Sector 5, Bucharest
+40 20 315 5635
Rates starting from EUR 70 including breakfast and WiFi
Distance: 26 min walking
Hotel Cișmigiu
Blvd. Regina Elisabeta, nr. 38, Sector 5, 050017 Bucharest
+40 31 403 0500
Rates start from EUR 84 including breakfast and WiFi
Distance: 26 min walking