Attendees checked in so far: 512
The fourth day of RIPE 71 opened to unusually warm sunshine and an action-packed second day of working group sessions.
The day's highlights include:
Cooperation Working Group: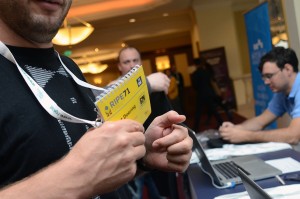 Valentina Pavel presented on the EU-US "safe harbour" agreement and the impact of the recent European court ruling
Collin Anderson discussed his work on export controls on certain ICT technologies
Oana Niculaescu presented a statistical analysis done with M-Lab looking at the correlation between socioeconomic status and Internet access
Farzaneh Badii outlined a proposed study on the accountability mechanisms of the RIRs, generating a lot of discussion on the history and development of structures and dynamics in the various RIRs and their service regions
Routing Working Group:
There were a number of presentations about improving BGP, including a suggestion by Alexander Azimov to extend BGP with roles in order to prevent accidental route leaks
Luca Sani showcased the Isolario project, which provides another view of the Internet's BGP routing tables
Randy Bush talked about standardising BGP communities for route collectors
Sander Stefann explained that the Address Policy Working Group was going to address the lack of communities for 32-bit ASNs with the IETF
Open Source Working Group: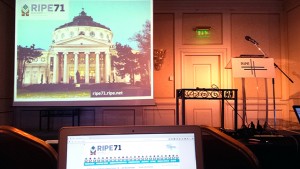 Ishida Wataru showed the working group a promising iteration of GoBGP, which was warmly received
Jan Včelák introduced a recently implemented code analysis system used in Knot DNS development
Robert Kisteleki and Sascha Bleidner explained how to access and use RIPE Atlas data via open source tools
Anti-Abuse Working Group:
Mirjam Kuehne updated the working group on the RIPE NCC's latest activities in the security arena
Erik Bais reported on the AbuseIO tool and his own personal experiences with implementing it
Florian Maury shared the French Network and Information Security Agency's findings regarding traffic amplifiers and the Open SSDP Project, and encouraged working group members to take action on any potential risks
Database Working Group: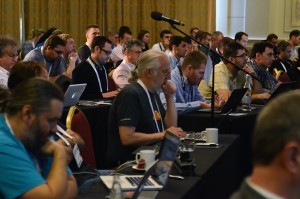 Tim Bruijnzeels introduced some new functionality in the RIPE Database and talked about personalised authentication
Alex Band presented enhancements to the Webupdates tool that support greater integration of single sign-on authentication and asked for feedback regarding RIPE Database documentation and user guides
There was a joint presentation from Michel Odou (AFRINIC) and Tim Bruijnzeels (RIPE NCC) about the AFRINIC IRR Homing Project
Lightning talks including route object authorisation and control of RIPE Database objects associated with legacy resources
DNS Working Group – Sessions I and II:
Anand Buddhdev gave an update on the RIPE NCC's expansion of K-root and discussed the algorithm rollover performed earlier this year
Chris Baker discussed using RIPE Atlas to look at Dyn's network topology
Marco Davids described SIDN's methods for identifying and preventing phishing and other abuse that occurs over .nl domains
The second session of the DNS Working Group included a number of presentations on interesting DNS software
Jaap Akkerhuis presented current plans for the DNSSEC root zone rollover
The working group thanked Peter Koch for his dedication and his vigorous support during his tenure as working group chair, and a new chair was appointed: David Knight
IPv6 Working Group – Session II:
Geoff Huston presented some interesting research results regarding the failure rate of IPv6
Timo Hilbrink, from XS4All in the Netherlands and Oskari Rasi from DNA in Finland shared some encouraging success stories
The working group discussed how to further encourage IPv6 deployment, including a suggestion to keep doubling the threshold for the fifth IPv6 RIPEness star
After such a busy day full of great content, attendees had a chance to unwind in style during the RIPE 71 Dinner at the very impressive (and large!) Palace of Parliament.