---
Monday, 16 November
Attendees checked in so far: 415
RIPE 71 attendees were welcomed to Bucharest with unseasonably warm weather, a nice change for a November meeting.
Day 1 began with parallel tutorials: NetDevOps – Ansible 101 to Network Nirvana, Introduction to RIPE Meetings and RIPE Database Tips and Tricks. The Newcomers Introduction session gave first-time attendees some insight into "RIPE Meeting 101" with help from RIPE NCC Managing Director Axel Pawlik and RIPE Chair Hans Petter Holen.
The meeting began after lunch (if you were still hungry after all the food in the coffee break!) with an afternoon of plenary presentations.
Opening Plenary highlights included:
The ins and outs of mobile satellite Internet, including maritime connectivity services and the finer points of geolocation
A lively presentation on automatic certification issuance that instigated a discussion on DANE's role in security
Lightning talks about the Internet outage in Amsterdam during RIPE 70 and BGP security at IXPs
The last plenary session of the day focused on DDoS attacks. Highlights included:
How to capture them for later analysis
How to detect and combat them using FastNetMon
FastNetMon use cases
The session concluded with a lightning talk on connecting 100Gbit/s links, what's possible and what's not.
The first socials of the meeting week took place in the hotel. Attendees mingled with the RIPE NCC Executive Board and then celebrated the end of a great meeting day at the Welcome Drinks.
---
Tuesday, 17 November
Attendees checked in so far: 467
Another beautiful day in Bucharest and another great line-up of engaging plenary presentations at RIPE 71.
Tuesday morning's 9:00 plenary focused on network measurements, and two-thirds of the presenters were from past and present RIPE Academic Cooperation Initiative (RACI) attendees:
RACI attendee Dario Rossi, Telecom ParisTech, presented results about where in the world anycast networks can be found
Andra Lutu (RACI alumni) from Simula Research Laboratory explained MONROE, a mobile broadband measurement platform
Jamie Horrell, NZRS, talked about research into spatial representation, including lots of pretty maps of New Zealand's broadband infrastructure
Attendees queued up for their RIPE 71 meeting t-shirts during the coffee break before filling up the main room for the second plenary session.
Highlights included:
A look at the tools used to maintain the Facebook network, use cases, the lessons learned and resulting recommendations from Facebook's Jose Leitao and David Rothera
The design of a small data centre, the mistakes made and problems that present themselves from Karl Brumund, Dyn
Leslie Carr on the pros of automation, the importance of network and system teams working together and how amazing Git and GitHub is
The afternoon's first plenary slot on Tuesday had a broader, less technical focus that prompted a lot of audience comments. Highlights included:
A presentation from University of Leiden students (and RACI attendees) on international humanitarian law and cyber warfare
An in-depth update from the RIPE Crisp Team on the IANA Stewardship Transition
Highlights of the last session of the day included:
Pitches from RIPE Programme Committee candidates
APNIC's George Michaelson on how adverts can be used to measure IPv6 deployment
RACI attendee Yves Vanauble delving into MPLS
Lightning talks from RIPE NCC staff on BGPlay and multi-CDNs resemblance to jellyfish
The day finished with presentations from talented students and researchers in the RACI session (see: ripe.net/ripe/raci) and a parallel BoF on addressing the problem of IP spoofing.
Attendees then boarded the shuttle busses and headed to Maraboo for a fun night of networking, dancing and great food (thank you to RIPE 71 host Interlan!).
---
Wednesday, 18 November
Attendees checked in so far: 493
Despite many confessions of post-party sleepiness, Wednesday kicked off in full force with the working group sessions. Here are the day's highlights: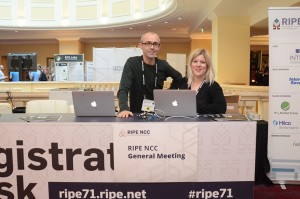 Address Policy Working Group – Sessions I and II
Nick Hilliard presented on the (now withdrawn) proposal to remove the multi-homing requirement to receive an AS Number and the working group agreed on an approach for a new draft proposal as well as a formal statement to the IETF that more work is needed to resolve outstanding issues with 32-bit ASNs
The working group discussed Erik Bais's proposal to unify all of the transfer policies into one new transfer policy document
There was further discussion of Radu-Adrian Feurdean's and Elvis Velea's proposal to allow LIRs additional allocations from the last /8; with no more agreement emerging during the session than on the mailing list, it was decided that the WG will likely not reach consensus with the wording as it currently stands and Radu-Adrian said he would work on one more version of the proposal with the WG's feedback
Ciprian Nica outlined the historical reasons behind Romania becoming the top exporter of IPv4 addresses via the transfer market
Ingrid Wijte gave a report from RIPE NCC Registration Services and highlighted the increase in some LIRs asking End Users to pay increased fees to continue using their resources or to purchase them outright; however, it was agreed that there was little the WG or the RIPE NCC could do in these cases
Connect Working Group
The working group agreed to conclude work on the "Working With CDNs" BCOP
Emile Aben presented his research on the paths that traffic takes and whether it stays in or goes out of country, highlighting some interesting examples in Romania, Sweden, France, Argentina and Chile
Martin Levy presented a short overview of one of the tools created during the RIPE Atlas hackathon that took place before RIPE 71 called ASN Tryst, an ASN to ASN interconnect viewer
Thomas King presented more details on traffic volume dependencies between IXPs
MAT Working Group
Dario Rossi explained how he's measuring the effect of carrier-grade NAT on web traffic and performance
Brian Trammel shed some light on Internet path transparency and showed that 0.5% of the Alexa top one million sites refuse to connect with ECN (Explicit Congestion Notification), although this is saved by fallback
Vesna Manojlovic asked for feedback about how the RIPE Atlas team should implement WiFi measurements; there's a poll available on RIPE Labs that she invited everyone to take
Sascha Bleidner, the winner of the RIPE Atlas hackathon that took place the weekend before RIPE 71, presented his team's winning traceroute tool for comparing your own path and latency to your (geographical) neighbour's
IPv6 Working Group
Benedikt Stockebrand gave an in-depth look at IPv6 from the enterprise perspective, outlining common problems that go beyond the purely technical aspects
The session included a number of practical lightning talks about vulnerability detection, deployment tooling and BCOPs
There was an open mic discussion on how to move forward with the IPv6-only network during RIPE Meetings; making sure the service is stable and supported were considered the most important goals
RIPE NCC Services Working Group
Axel Pawlik gave an update on the RIPE NCC's actions and outlook, noting some focal points for 2016 that include maintaining a strong registry, enhancing RIR accountability ahead of the IANA stewardship transition, expanding outreach throughout the RIPE NCC service region, and providing enhanced statistics and analysis
Alex Band explained how several services have been streamlined, including the membership sign-up process, resource requests, the RIPE Database interface, and registry changes
A proposal for a capital endowment fund to support the IETF generated a lively discussion
With no pre-planned social on Wednesday night, attendees headed out into the Bucharest night in search of sarmale, pălinca and a good time with friends and colleagues.
---
Thursday, 19 November
Attendees checked in so far: 526
The fourth day of RIPE 71 opened to unusually warm sunshine and an action-packed second day of working group sessions.
The day's highlights include:
Cooperation Working Group: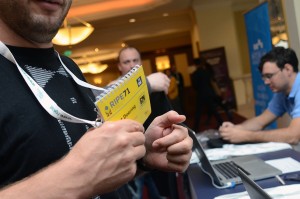 Valentina Pavel presented on the EU-US "safe harbour" agreement and the impact of the recent European court ruling
Collin Anderson discussed his work on export controls on certain ICT technologies
Oana Niculaescu presented a statistical analysis done with M-Lab looking at the correlation between socioeconomic status and Internet access
Farzaneh Badii outlined a proposed study on the accountability mechanisms of the RIRs, generating a lot of discussion on the history and development of structures and dynamics in the various RIRs and their service regions
Routing Working Group:
There were a number of presentations about improving BGP, including a suggestion by Alexander Azimov to extend BGP with roles in order to prevent accidental route leaks
Luca Sani showcased the Isolario project, which provides another view of the Internet's BGP routing tables
Randy Bush talked about standardising BGP communities for route collectors
Sander Stefann explained that the Address Policy Working Group was going to address the lack of communities for 32-bit ASNs with the IETF
Open Source Working Group: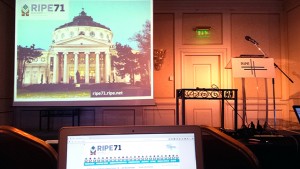 Ishida Wataru showed the working group a promising iteration of GoBGP, which was warmly received
Jan Včelák introduced a recently implemented code analysis system used in Knot DNS development
Robert Kisteleki and Sascha Bleidner explained how to access and use RIPE Atlas data via open source tools
Anti-Abuse Working Group:
Mirjam Kuehne updated the working group on the RIPE NCC's latest activities in the security arena
Erik Bais reported on the AbuseIO tool and his own personal experiences with implementing it
Florian Maury shared the French Network and Information Security Agency's findings regarding traffic amplifiers and the Open SSDP Project, and encouraged working group members to take action on any potential risks
Database Working Group: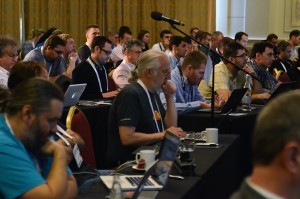 Tim Bruijnzeels introduced some new functionality in the RIPE Database and talked about personalised authentication
Alex Band presented enhancements to the Webupdates tool that support greater integration of single sign-on authentication and asked for feedback regarding RIPE Database documentation and user guides
There was a joint presentation from Michel Odou (AFRINIC) and Tim Bruijnzeels (RIPE NCC) about the AFRINIC IRR Homing Project
Lightning talks including route object authorisation and control of RIPE Database objects associated with legacy resources
DNS Working Group – Sessions I and II:
Anand Buddhdev gave an update on the RIPE NCC's expansion of K-root and discussed the algorithm rollover performed earlier this year
Chris Baker discussed using RIPE Atlas to look at Dyn's network topology
Marco Davids described SIDN's methods for identifying and preventing phishing and other abuse that occurs over .nl domains
The second session of the DNS Working Group included a number of presentations on interesting DNS software
Jaap Akkerhuis presented current plans for the DNSSEC root zone rollover
The working group thanked Peter Koch for his dedication and his vigorous support during his tenure as working group chair, and a new chair was appointed: David Knight
IPv6 Working Group – Session II:
Geoff Huston presented some interesting research results regarding the failure rate of IPv6
Timo Hilbrink, from XS4All in the Netherlands and Oskari Rasi from DNA in Finland shared some encouraging success stories
The working group discussed how to further encourage IPv6 deployment, including a suggestion to keep doubling the threshold for the fifth IPv6 RIPEness star
After such a busy day full of great content, attendees had a chance to unwind in style during the RIPE 71 Dinner at the very impressive (and large!) Palace of Parliament.
---
Friday, 20 November
Attendees checked in so far: 526
The fifth and final day of RIPE 71 began in the usual post-RIPE-Dinner fashion (tired but happy) as the meeting began to wind down.
The morning's highlights include: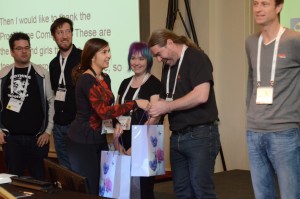 NRO/RIR Reports:
Updates from the four other RIRs, including a long-distance update from AFRINIC via Skype.
An update on the NRO, delivered by Axel Pawlik, followed by statistics from Ingrid Wijte.
Closing Plenary:
The RIPE Programme Committee election results were:
Geoff Huston, APNIC, gave a typically entertaining presentation on mobility in today's Internet. It featured a prediction that there would be perhaps five laptops in the RIPE Plenary room by 2020.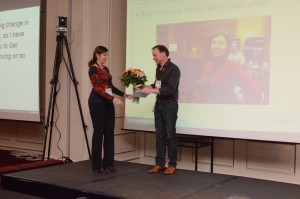 There were two lightning talks.
A measurement of SMTP over TLS Ondřej Caletka, CESNET
Forced Firmware Lockdown Christian Scheele, embeDD
Razvan Oprea from the RIPE NCC gave the technical update. In a show of hands, almost all attendees said they had steady WiFi and could work without problems all week.
RIPE Chair Hans Petter Holen made the final announcements.
526 Checked in attendees
147 newcomers
52 countries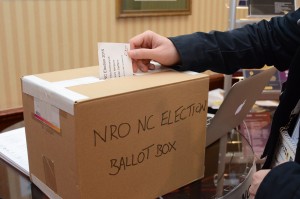 NRO NC election:
Nurani Nimpuno was appointed to the NRO NC
The following announcements were made regarding the DNS Working Group:
Peter Koch is stepping down as DNS WG Chair
Dave Knight has been selected as DNS WG Chair