Thursday, 19 November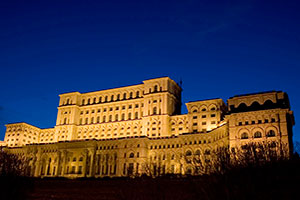 When: 19:30 – onwards
Where: Palace of Parliament
Tickets: EUR 50
This is a location to tell your friends about! The RIPE 71 Dinner will take place in the second largest parliament building in the world. Enjoy world-class cuisine, surrounded by breathtaking interiors, network with old friends and make new ones. After dinner, we will keep the music low in the dining hall for casual chatting. You can join the party in the foyer just outside if you prefer to dance the night away to the musical stylings of our DJ.
Walk:
Even though JW Marriott Bucharest Grand Hotel is close to the palace, don't underestimate how large this building is. Allocate at least 13 minutes for the walk and follow our map to make sure you end up at the right entrance.
Shuttle Bus:
There will be a shuttle bus making rounds between the JW Marriott Bucharest Grand Hotel and the Palace of Parliament. The bus leaves the hotel every 10 minutes from 19:20 – 20:00 and leaves the Palace of Parliament every 30 minutes from 22:00 – 02:00.
Sponsored by: